Mariana Cordoba

Date of Birth: July 14, 1981
Country: Argentina
Place of Birth: Cordoba, Argentina
Eye Color: Brown
Hair Color: Black/Brown/Blond/Red/Light Brown
Ethnicity: Latina/White
Penis Size: Big
Breast Size: DD
Measurements: 34DD-23-36
Shoe size: 7.5 U.S., 39 European

You can't honestly say you've seen the best of the best in TS porn until you've seen anything by Mariana Cordoba. She's been doing TS porn since 2005 and have amassed a number of films that show how prolific she is.
Don't let that big penis distract you though, she's got something between her ears and you'd be remiss if you just take her for her stunning latina look and that body that just won't quit.
What Mariana Likes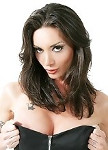 If you have something like what Mariana has between her legs wouldn't you use it? She sure has.
She mainly does scenes with guys, but we've seen her with other TS stars and women too. Some of her most popular scenes are those where she uses that huge cock on someone else, another TS or a guy, and when she's playing with it all on her own. We get mesmerized when she whips that huge pal of hers out and just starts rubbing it.
And yes, she watches TS porn too!
The Future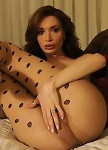 The last time she came out with anything from a studio was a while back, but her site at tsmarianacordoba.com does regularly get updated.
Last we heard, she was in a tour of Europe and was in fact in Italy. We're one of her fans that keep requesting her to visit. It would be a blast if she stops off at Las Vegas on her trip back to Argentina. I know some of her fans in Sydney would also love to get a glimpse of that huge cock of hers.