Madison Montag

Date of Birth: Unknown
Country: United States
Place of Birth: Austin, TX
Eye Color: Brown
Hair Color: Brown
Ethnicity: White
Penis Size: Big
Breast Size: Small

Madison Montag, now aged 20, was born in Austin, Texas in what she recalls was a "really small, conservative town — where everyone knew everything about everyone" which she further likens to "growing up in a utopia." She came out as a transexual at a really young age but had supportive parents.
What Madison Likes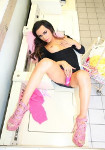 She hasn't had sex with women, though she is open to the idea. She enjoys anal sex and giving oral sex, including giving and receiving rimming, but she admits to being uncomfortable receiving oral sex.
Although she's had surgery for her breasts, she is still not sure about getting a complete gender reassignment. She believes she's still young enough to not rush into it, but adds it's an "end goal" for most, including her.
Dating and Love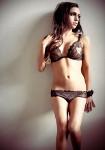 When asked about dating, she admits to having difficulties. She does "plan on moving in the future to a larger city, starting over, and leaving everything behind. Maybe then I will have more luck in the dating department, but as of now, it's very difficult."
Maybe she'll even end up at some of our more transexual friendly cities close to her like Dallas or Houston. Crossing fingers!