Kimber James

Date of Birth: April 2, 1988 (from Wikipedia)
Country: United States
Place of Birth: Miami, Florida
Eye Color: Hazel
Hair Color: Blonde
Ethnicity: White
Penis Size: 15cm / 5.9″ / NA (after 2012 gender reassignment)
Breast Size: F
Measurements: 32F-22-35
Shoe size: 6

Kimber debuted in the 2007 TS movie "Transsexual Babysitters 4″. From there it was a short skip and hop away from getting a self-titled flick in 2008 and then winning the AVN award in 2010 and being nominated again for the same award the following year.
Growing up she was a shy, little thing. She has had the good fortune to transition at a very young age and now has a lot going for her; an illustrious career as a TS pron star from 2007 to 2013, and then starting her own outfit, Kimber James Studio in 2013. She has had gender reassignment in 2012 and have had successful films as a post-op female.
What Kimber Likes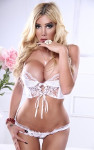 SEX! Lots of SEX! She's willing to do anything and have done a lot in her career. She's not shy about wanting to get her fill and admits to being disappointed when she doesn't reach orgasm during sex.
Physically she likes tall guys with muscles. Like most women she values honesty and a sense of humor above all but she's also got a thing for bald guys and tattoos, so head on over to your barber and tattoo parlor guys.
Her first performance with a female was back in 2008 but what she really likes is being the submissive in scenes, and admits to it in an interview stating:
"I love big strong men that take control and toss me around. If it's not rough, I lose interest. I'm a spinner, what can I say!"
– xcritic.com
Not much of a party girl, Kimber says this about herself on her website ts-kimberjames.com:
"I don't really like going out at night or going to clubs. I much prefer to go to the mall and shop – my favorite pastime – or go out to dinner or lunch with friends."
The Future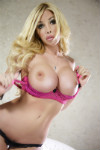 Right now, Kimber is really all about getting her studio off the ground. She's doing a great job of it judging by first DVD the studio put out which received a ton of praise. She wants to take control and is really interested in overseeing all aspects of her career. She also re-launched her website, www.BustyKimberXXX.com, which holds a lot of her pre-op stuff, as well as new images and videos of her.
She spends a lot of her time between TS friendly cities New York and Los Angeles. Guys in those areas would have the best chance of meeting her or maybe someone like her.