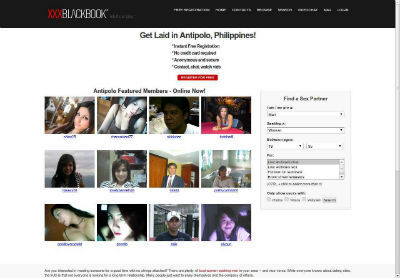 About the site
With over 2 million active members from all over the world, XXXBlackBook is among the most popular adult dating websites in the world. As you can probably guess from the name, the site enables users to maintain an online 'black book' of sex contacts. Considering the huge member base, there is a good chance of you finding a likeminded person near your location.
Membership Plans
You can register at the site for free. They will not even ask you for your credit card details. A free membership allows you to create a profile, search for users, receive email and upload limitless photos & videos. While this is quite impressive for a 'free' account, it is still severely restricted. If you want to increase your chances of finding a suitable partner, you should upgrade to one of the following premium membership plans:
Sub Duration
Membership
Price
1-month
Silver membership
$29.95
3-month
$59.95(approx. $20/mo)
2-day trial
Gold membership
$9.95
1-month
$34.95
3-month
$69.95(approx. $24/mo)
12-month
$119.95(approx. $10/mo)
**Prices subject to change, please check their site
As a paid member, you will be able to:
Flirt with members endlessly
Read and send unlimited messages and emails
Access to webcam sex parties
See sexy pics and home videos posted by members (Gold only)
Access to a swingers and strip club directory, which is an uncommon service (Gold only)
Features
A number of unique and exciting features make the site easy-to-use and attractive. In addition to the usual instant messaging and email services, XXXBlackBook provides high-resolution video mail. Thus, users can send steamy sex videos to one another.
Sending an email or message to someone to declare your interest in him/her is outdated. At XXXBlackBook.com, you can simply 'flirt' with your target. With a simple mouse click, your target will know that you are keeping an eye on him/her. You can store your contacts in your black book, which is easily customizable. The site also hosts various contests and events for premium members.
There is a mobile version of this site. To access this version, simply scroll down to the bottom of the regular version and click on the 'Go Mobile' link that is located on the left side of your screen. For the best browsing experience, it is recommended that you use Opera.
If you experience any trouble with this site, you can look at the FAQ section that seems to have covered each and every detail. Alternatively, you could get in touch with technical support.
What's cool about them?
Get Laid Guarantee

Inability to get a fuck buddy will usually put one into misery and doubt. That may not be the case at XXXBlackBook due to its Get Laid Guarantee, which is arguably the site's most attractive feature. To be eligible for this guarantee, you will need to be a paying member for at least three months (consecutively). If you do not find a suitable buddy in this period, you will get an additional three months for free.

Privacy

XXXBlackBook adopts a serious approach in matters concerning users' privacy and confidentiality. They use proprietary software that helps in protecting the user's IP address, emails, data and identity. In a world like ours where surveillance is the norm, this is an invaluable service.

Free membership provides a fair picture of the site

Dating sites struggle to find the perfect mix – provide website visitors with sufficient information and access that will encourage them to become paying members. XXXBlackBook seems to have this right. The free membership gives users a fair idea of the site's capability and leaves them hungry for more.

Search function

The search tool on this website is quite comprehensive. While a 'basic' search has simple parameters, the 'advanced' search is far detailed. Some of the parameters are distance, relationship status, intentions, fetishes, body type, occupation, religion and sexual turn-ons.

What's lame about them?

As good as XXXBlackBook sounds, there have been a significant number of complaints against them. A simple search engine search reveals a sea of customers who are unhappy with the site for various reasons. Listed below are a few common complaints:

Unauthorized deductions

Many users have reported being unfairly or excessively charged. In some of these cases, the concerned user's account was not even active.

Incessant messages

Some users have received numerous messages on their cell phones throughout the day and night.

Fabricated profiles + Inactive profiles

Several disgruntled ex-customers believe that many profiles on the site are fabricated in order to encourage genuine users to upgrade. Hence, not every 'flirt' you get may be genuine. In addition, several profiles on the site are inactive for long periods.

In addition to the complaints described above, the site has the following failings:

Appearance

Although the site has many impressive features, it fails extraordinarily in terms of design and layout. In simple words, XXXBlackBook does not look attractive

Unsubscribe option

According to some reports, it is very difficult to unsubscribe from this site

Users

There seems to be too many men and too many fake women on this site. What makes matters worse is that there are too few attractive women here

Conclusion

XXXBlackBook.com looks like a promising adult dating website. It has an array of awesome features and an impressive subscriber base. However, the spate of controversies has robbed the site of some, if not most, of its sheen. Keep in mind all concerns during your assessment of XXXBlackBook. If the proportion of hot girls and the availability of verified profiles is a chief draw for you when checking out dating sites, we highly recommend checking out OneNightStandGirls.com. We did a review of them a while back and you can read our review here.