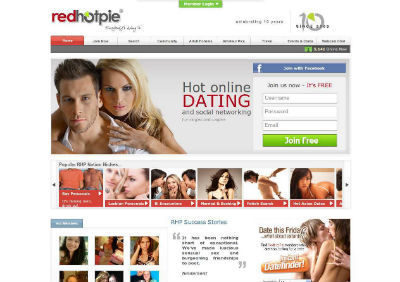 Australia's sexual revolution has resulted in an explosion of online adult dating websites. At the forefront of this revolution is RedHotPie, which truly lives up to its name – it is red hot.
About the site
Red Hot Pie is an adults' website that aims to assist singles, couples and groups in finding other consenting adults for an exhilarating sexual experience. Created for Aussies over 18 years of age, this dating site had the best score among Australian personals website based on the results of an international survey conducted by FHM Men's Magazine.
With more than two million registered members and almost 20,000 unique visitors every day (as of 2013), this dating site is easily one of the most popular and well-known sites in Australia. They empower members to experience an innumerable variety of fantasies – from simple friendships and casual sex to erotic wife swapping and one night stands.
Membership options
Registration is free. As a free user, you can view some basic information about the site's members. However, you can neither see sexy pictures of registered users nor message someone who catches your eye. So, if you want to interact with the site's members and  get to know them better, it is recommended that you become a paid member.
RedHotPie offers three levels of paid memberships – Premium, Premium Plus and Platinum. You can upgrade to a paid membership at any time. All you need to do is contact the Billing department. The changes might take a few days depending on the time and mode of payment.
What's Red Hot?
There are many things to like about Red Hot Pie. Listed below are a few of them:
Easy and safe

RedHotPie offers an easy and safe platform for strangers with likeminded interests to get together and have fun. The site is attractive and simple to understand.

Plenty of couples

Through my experience, I found that this site has more registered couples than other popular Australian dating websites. Hence, this site is a terrific resource for those who want to swing with couples.

Adult forum

The forum is quite active. You can meet real and fun people almost instantly. However, the support team moderates the forum rather heavily. You will not find any topics that are critical of the site or its services.

Search capability

Age, gender and location are run-of-the-mill features. RedHotPie offers much more in order to help you find the perfect dream date. For instance, the 'Date Finder' helps you identify people who are available on a certain day. Another useful feature is the 'Compatibly Score' that attempts to determine how suitable you are for a particular user.

Date Doctors

If you want answers to some sticky questions, just get in touch with the resident Date Doctor. These experts will put to rest your nagging concerns.

Competitions

Share your kinky or sexy stories with everyone and you can win money or exciting prizes. For instance, you could participate in the Amateur Hot Pics competition or the sexier Red Hot Pics competition.

In addition to the above, RedHotPie.com.au offers live chat, instant messaging, adult dating classifieds and a community section.

Drawbacks

Pricing

The membership plans are not cheap. For just one month on the lowest paid membership plan, you might have to spend as much as $50 AUD. Of course, you can save a lot of money by opting for the 3-month or 6-month packages.

Moderation

The support team is rather strict in ensuring a safe and decent environment for all users. You could get a permanent ban over some seemingly innocuous content. More importantly, you might not receive any warnings. The lack of an appeal system means that you lose not only your account but also your money.

Inactive profiles

As with every other online adult dating website, RedHotPie has some issues with inactive profiles. They do not delete or remove accounts that are inactive for long periods. However, users can delete their account – if it is associated with a man or a couple. According to recent reviews, accounts registered in a woman's name do not have the 'Delete Account' feature. This could be a strategy on the website's part to maintain a high female member base.

The Verdict

With its attractive interface and powerful functions, RedHotPie.com.au is easily a unique and excellent dating website. Undoubtedly, it deserves its position as one of Australia's most popular websites.XXX Sex Guides recommends you to take the plunge if you want to have an easy fling or some quick thrills. If you are put-off by the lack of a free members options, please check out our review of OneNightStandGirls.com here