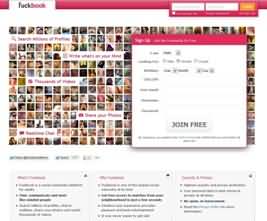 Fuckbook claims to be a hybrid site that combines two worlds, which are social networking and adult dating websites. This combination is the motivation behind their tagline – the Facebook of sex. The site strives to change the adult dating scene by making it easier and simpler for likeminded people to meet one another.
Packages and payment options
You don't have to pay immediately to get a feel of the site. The site permits free registration. You only need to provide your basic details and you are ready to roll. If you want to test the functionality of the site, you could opt for the three-day trial membership. If you are happy with what you see, you could become a full-fledged member. FB offers only one premium plan. However, this premium plan is available in the following variants:
The 1-month plan – Translates into $29.95 per month
The 3-months plan – Translates into $19.95 per month
The 1-year plan – Translates into $9.95 per month
Here's what you can get with the premium membership:
Read messages from other users
Send an unlimited number of messages
Make full use of real-time chat system
Add blogposts
Share albums and videos
No advertisements
Give virtual presents
The site accepts the following credit cards – Visa, MasterCard, Discover and JCB. If you are located in the United States, you can make the payment through check. If you are in Europe, you can make the payment through an online bank transfer.
What's attractive about this site?
The site maintains a fine balance between social networking and online dating. Of course, it places a huge emphasis on sex. It certainly tries to be an all-in-one package. Here are some of the site's features that caught my eye.
Search options

Listed below are the parameters you can use to identify probable dates in your area.

The standard parameters – Search For, Looking for and Location
Distance – This is measured in miles
Now online – taste action as soon as you log in
With Photo – find a face for a profile
On the site for – casual sex, surf amateur content, love, etc.
Relationship – single, swinging, open, etc.
Ethnicity – African, Latino, Asian, etc.
Fetishes – latex, toys, leather, spanking, etc.

Photos, videos and cams

These are undoubtedly the main selling points of FB. You can view photos uploaded by members, even as a free member. You can easily identify the ones that are setting the streets on fire through the 'Most Discussed' and 'Top Rated' parameters. If you are in the mood to make some judgments, you could even vote on members' photos.

If you are not impressed with static images and would like some real action, then you won't be disappointed. FB members throw all inhibition out of the window, as they upload amateur videos for all to see. Whether it is a couple of lesbians having fun with one another or a cute girl giving a blowjob, there is plenty to see here.

There is also a 'Cams' section. If you click on this link, it will take you to an external site. So, it is not exactly a part of the Facebook of sex experience.

Blogpost

The blogpost is a really nice feature. Members use it to post jokes and funny pictures. There are more than enough to start a laugh riot.
What's ugly about this site?
Fake Profiles

The site's biggest drawback is the genuineness of member profiles or rather, the lack of it. You should be careful as to who  you are dealing with on this site. Several member profiles do not belong to people looking for a fuck buddy. They belong to people with nefarious intentions. After a brief conversation, these people will ask you to fulfill a requirement. In other words, they will direct you to scammers. Many genuine users have had such an experience here. That is why you see many negative reviews about this site.

Lack of profile pictures

Many member profiles do not have pictures. This can be a real damper, as you would like to see the face you are dealing with. Furthermore, many of the member profiles with a photo have an inappropriate photo. Instead of their face, these members choose to showcase their genitals. There is nothing wrong with this as far as Fuckbook is concerned – the site permits such pictures. Nonetheless, the experience would be much better if one could see the member's face.

Unsubscribing

A significant number of people have also experienced problems with cancelling their membership/account. They were billed even after they had terminated the contract. What made the experience worse for them was the fact that the refund did not come to them swiftly or easily.
Want to give it a go?
There's a 3-day trial to get your beak wet and see if the site is for you. We're a little put off with the reports of issues with unsubscribing though and that usually discourages membership, it would discourage us. If you want to try out an adult dating site with a bigger population of real women you could give OneNightStandGirls.com a try. Check out our review of the site here.