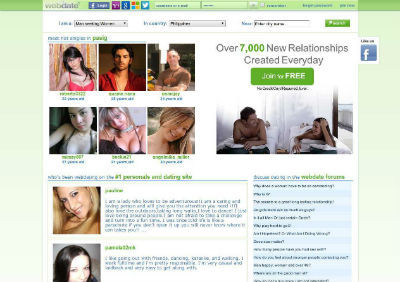 About the website
Launched in 2004, Fling is one of the biggest online dating sites in the world. This is a site that offers anyone that are seeking a casual date or any short-term sexual relationship with an individual in their area. With a larger-than-industry-average subscriber base, the site aims to help people realize their sexual fantasies in a fun, safe and discreet environment. The site welcomes people of all ages and sexual orientations.
Membership Plans
Although Fling.com is technically a 'free' dating site, you will not find it very useful as a free user. While this is true for nearly all dating websites, this site takes it a little further. Even the ordinary act of looking at members' profiles requires you to upgrade. For this reason, it is logical that you take the 3-day trial offer. For just $4.95, you get complete access to the site. If you like what you see and want more, you can choose one of the following membership plans:
Subs. Duration
Membership
Price
1-month
Silver membership
$24.95
3-month
$49.95
12-month
$99.95
1-month
Gold membership
$34.95
3-month
$59.95
12-month
$199.95
**Prices subject to change, please check their website
Once you upgrade, you will be able to enjoy the following benefits:
Gain complete access to members' profiles
Send and receive messages (among paid members only)
View photos and videos uploaded by members
Gain access to member forums
Participate in real-time video chat and private one-on-one sessions
Create your favorites list known as Blackbook
Features
The site has a glossy appearance and impressive content that can easily your attetion. Registration is easy and quick – you can get started inside two minutes. The search function is pretty impressive. In addition to the 'basic' and 'advanced' options, which you see on every internet dating website, Fling.com offers a unique search option known as 'new faces' – the name should be self-explanatory.
An online dating site that helps people find casual sex partners is expected to have racy content. Even so, Fling.com pushes the limits. The site has plenty of adult content such as pictures of naked people and videos of couples having sex. If you do not feel like chatting, you can simply look at the naughty pics or view the sexy videos that are in great numbers in Fling.com.
On many dating sites, a user's profile can be seen by anyone. However, some users may not like the attention. Fling has an effective remedy for such users – the 'discreet profile' option. With this option enabled, only those people in your Blackbook can see your complete profile. Everyone else sees a blurred picture and limited information about you.
What rocks here?
Clean and clear

The site is simple to understand and easy to navigate. Even a person unfamiliar with online dating websites cannot get lost here. Unlike many other dating sites that seem to be outdated, Fling.com looks sharp, loads quickly and feels up-to-date.

Search capabilities

The 'Quick Search' is extremely useful if you want to get some action quickly. If you are choosy about your fuck buddies, the 'Advanced Search' feature does the job perfectly.

What sucks here?

Free account is almost useless

A free account is extremely limited. If you really want to get an accurate picture of the site's capabilities, you have no option but to take out your credit card.

Lack of hot girls

Gender disparity exists on all online dating websites. What is disappointing about Fling.com is that there does not seem to be many hot chicks. Of course, this statement is highly subjective. After all, beauty lies in the eyes of the beholder.

Account suspension for ambiguous reasons

Several users of this site have had their paid accounts suspended suddenly and unexpectedly. They did not receive any warnings. All they got was a message like this:


Your account has been suspended or deactivated due to violation of our T&Cs.

The worst part is that these users never found out the specific reason for their suspension.

Should we?

The lack of hot girls and the useless free account should be enough to dissuade you from trying out the site. A paid account getting suspended without a clear explanation of the violation definitely raises a red flag. You can go ahead and try it, but why bother? There are a host of other alternatives out there, including OneNightStandGirls.com, which we've reviewed here.