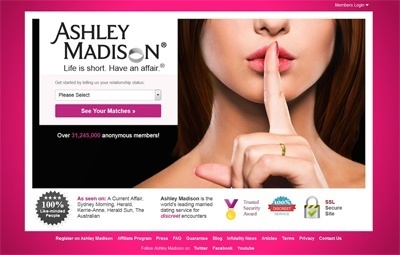 Unfortunately Ashley Madison is a great concept, but doesn't really live up to its promises in reality.
I was looking for an uncomplicated hookup with a woman who wouldn't want to have any strings attached. After seeing all of the advertisements online, I decided to give Ashley Madison a try.
What intrigued me about Ashley Madison is that because the women on there are married or in serious relationships, I figured I wouldn't have to worry about any of them wanting to seriously date me after we had sex. That was a very appealing idea. And I assumed that any woman on the site would be horny – why else would she be on there otherwise?
My major problem with the site is that nearly none of the profiles have pictures. And, honestly, the profiles themselves are really skimpy. You only have to respond to a couple vague questions to have a "profile." So what happens is that you end up having no idea at all who to contact. All you really know is their gender and approximately where they live.
When I tried contacting women on the site, I found that it would often take 10 or 15 emails before they would send me a picture or tell me anything about themselves. This led to me wasting time talking to women who I eventually realized I was not attracted to at all. I suspect this is one of the reasons for the negative Ashley Madison reviews you can find online.
Other times I found out that they lived so far away it wasn't worth the effort, or that they were really boring. All of this could be resolved if the site insisted people put up pictures and tell you more about themselves.
This seemed particularly deceptive because when I first logged in, I was shown pictures of very attractive women "in my area." However, when I tried to contact them I found that all of those profiles were inactive.
I later found out why this happens by reading through some Ashley Madison reviews I saw online. Unlike most sites, you can't simply delete your profile when you don't want to use it anymore. Instead, Ashley Madison charges you money to remove your profile. Many people are unwilling to spend the money, so their profiles stay up for years after they have decided they aren't looking for sex anymore.
Another problem I had was that nearly all of the women I was able to talk to disappeared once I admitted I was single. I eventually realized that what the women on the site are looking for isn't a one night stand with a single guy. They want to have long-term affairs with married guys. Therefore, if you are single, the site becomes nearly completely useless.
I suspect that if you were a married man willing to talk to several dozen women until you find one that is actually attractive when she finally sends you a picture, Ashley Madison could work for you.
But if you are just a normal guy looking to get laid, Ashley Madison simply doesn't work. And I do find the fact that I had to pay money to get rid of my profile to be a little bit creepy.
Instead, I'd suggest trying OneNightStandGirls.com. It actually has single women looking to have fun – and you can see their pictures before deciding if you want to contact them or not!