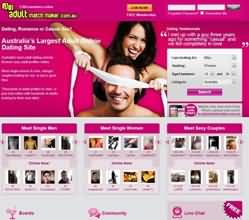 I decided to try out Adult Match Maker because it's the largest dating site in Australia and New Zealand. Like everyone else, I'd seen the ads and liked the idea of a place full of other horny people from our part of the world. I wasn't really worried about the price – as long as I could get laid, it would be worth it.
I really wish that I could give a full thumbs up to Adult Match Maker, but I can't. While it does have over two million users, that's not going to help the average person out. When I first signed up I couldn't figure out why none of the women I was contacting were getting back in touch with me.
Finally, one did and we got to talking, and I realized the problem. There are so many men on Adult Match that they overwhelm the women. She told me she gets about 45 to 55 contacts from men a day, and that's far too much for her to go through. So, she just deletes 90 percent of the emails – and doesn't even log in very often.
It's pretty clear that there are many, many more men than women on the site, which means that if you are using it to try to get laid, it's nearly impossible to get anywhere.
And if you are a woman, you'll end up getting annoyed rather than horny. And this seems to be even worse if you are new female member – because all the guys will suddenly swarm you. This is something that has been touched on in other Adult Match Maker reviews.
I'm also unimpressed with their verification system. I know they are trying, but because they don't make verification mandatory most people don't use it. Which means you have no idea at all if you are talking to an actual woman or some teenager joking around. And this also means that you have no idea if the profile is from an escort looking for business.
Other Adult Match Maker reviews make a big deal about their chat rooms. What I can say about them is that they are not good for trying to get laid – only if you are looking for a 'social chat'.
Adultmatchmaker is also bad when it comes to billings. I signed up for a month and they auto-renewed my membership for the second month – charging me without first making sure I wanted to be on for another month. You have to actually go into the site to cancel the auto-renew option, which doesn't seem fair.
Yet another problem with Adult Match is that while they have two million profiles, many, many of them are inactive. You can check and see that some haven't been used since 2005. And, I'm fairly certain that a lot of the Adult Match reviews are not authentic.
The bottom line with Adultmatchmaker is that it has too many men, not enough active female profiles, and does very little to make sure that you are trying to contact a real person. And you could end up spending more money on Adult Match Maker than you were expecting if you keep getting auto-billed and don't notice it.
I'm a decent looking guy and I couldn't get laid with Adult Match, so I can't recommend it.
So what actually worked for me?
Click Here to check out my review of ONSG, a site that actually will get you Laid !