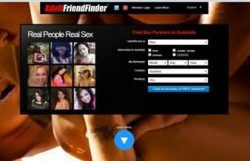 Adult Friend Finder is a website that caters to anyone wanting to meet someone for friendship and sexual liaisons. The site provides a platform for likeminded people to interact with and meet one another. AFF started as a spinoff of FriendFinder, which was comparatively a more traditional internet dating program. Today, it is one of the most visited websites in the world.
Membership options
The site offers Free, Silver and Gold memberships.
Listed below are some features of the Free membership plan:
Upload photos, voice greetings and introductory video
View member profiles
Email members through the website
Chat with people instantly through the IM system
Participate in the chat rooms
Maintain a personal list of favorite members known as the 'Hotlist'
Visibility to other users – your name will appear in the 'Members Online' list
Although you might think that you are getting a lot from the Free membership plan, it is only showing a glimpse of what the site is all about. The reality is that this type of membership offers limited features. For example – the search function will reveal only a few member profiles with many other profiles meeting your requirements inaccessible.  To really appreciate the full functionality of the website, you should consider becoming a paid member. The Silver membership is available for $20 USD per month, while you can get the Gold membership for a monthly fee of $30 USD.
Once you become a paid member, you will be able to enjoy greater benefits such as the following:
- Viewing photos and videos of other members
- More search options
- Telephone technical support
- Viewing previous polls and their results
The Gold membership offers more advantages:
- Profile will shift to the top of the search lists
- Greater storage capacity and keyword-based searches
- MSN, YIM, ICQ and AIM IDs of contacts in your network
There is even a VIP membership, which is available only for Gold members. If you decide to become a paying member at AFF, you can make the payment through the following options – telephone, fax, credit cards, direct debit and Click&Buy.
Benefits to look forward to
There are many adult finder sites out there. What makes Adult Friend Finder different from them? Well, one of the site's distinguishing factors is the large number of features provided to both free and paying users. Free members get the icing on the cake, while paying members get a significant portion of the cake depending on their membership plan. This is something all Adult Friend Finder reviews agree upon.
Paying members can interact with one another through a variety of communication mediums such as e-mail, chat rooms and webcams. The site even provides a blogging platform. You can create your own blog, respond to comments and also comment on blogs belonging to other members. AFF also provides a magazine, which is also known as a webzine.
The search function is equipped with several filters like region, appearance and education. You can search for users who are online at the moment, which is very useful if you want instant action. You can even save your searches.
The site attracts people of all hues in terms of sexuality and interests. If you are looking for that kinky experience, you may find it at AFF.
This is arguable the most attractive feature of AFF. They guarantee that users will get laid within three months. If you are one of the unlucky (lucky?) ones who don't get laid, you will get the next three months for free!
Pitfalls to watch out for
As good as AFF is, there are some tricky things that you should watch out for. If you are not careful, these things could ruin your experience.
Adult Finder has an auto-renewal feature. In other words, they automatically extend your contract. This feature is useful if you plan to stay at AFF for a while. If you have other thoughts, however, you should remember to login and make the necessary changes.
40 million members is undoubtedly a very impressive amount. However, this huge number of profiles is misleading if many of them are expired or simply not active.
Furthermore, many of these profiles may not be an accurate representation of the person behind the screen. According to some Adult Friend Finder reviews, many member profiles at AFF are fakes. It is advisable not to have high expectations just because of the number of members .
Another failing of AFF is the male-to-female ratio. The ratio is only 72:28, which is undoubtedly not very impressive if you are a male. However, there is some good news. One must consider the fact that only paying users can flirt actively. The number of paying male members seems to be quite low. In other words, the competition might be weaker  than you think.
Conclusion
Taking into account all the fake and inactive member profiles, AFF still provides plenty for those looking for a fabulous swinging or dating experience. Although the site attracts people of diverse age groups, it would also seem that most of the members at AFF belong to the 18-35 age category. It clearly shows that the young are not shy about what they want.
It is recommended that you become a paying member if you are a male. Your chances of striking gold will be much greater, as you can gain more tools and eliminate most of the competition at the same time. If you are a lady, you will probably do fine with a Free membership.