Meet Dominant Women Near You

Although Western Australia is infamous for having regressive and outdated commercial sex laws, the state is quite liberal as far as BDSM is concerned. Hence, it is not surprising to see a great number of professional and casual Perth mistress.
Perth Dominatrix & Mistresses
For those who want a genuine BDSM experience in Perth, The Fetish Manor is the logical choice. They have a feature-rich dungeon that is quite similar to the torture rooms you see in bondage movies. With highly-trained staff who are articulate in the services they provide, The Fetish Manor is regarded as the city's premier BDSM venue. Open from Monday to Saturday, they welcome clients of all levels of experiences.
If you want an independent Perth dominatrix to punish you, you could use the services of Mistress Claudia or Mistress Celine. These ladies offer similar services at competitive rates. Another bondage professional is Mistress Erica. She also offers escort services. None of these dominatrices provide an address. You will have to call or email them directly if you want to know their dungeon's location.
Local Dominant Women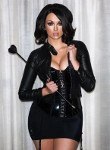 The Perth Swingers Club host fetish parties and they attract dominant girls in the city. Unfortunately, single males are not allowed. Considering the fact that you could meet a fun Perth mistress at one of their parties, you are advised to find a willing companion.
You could also visit Delta Socials. Located on Aberdeen Street in Piccadilly Square, they host a number of parties every month, including those that attract the casual Perth dominatrix. Visit their website for more information about these parties.