Meet Dominant Women Near You

Melbourne has a huge population and rather liberal laws towards providers of sexual services. It is an attractive destination for bondage performers – both masters as well as slaves. Walk into the nearest BDSM club or use the services of a professional Melbourne mistress if you want an out-of-this-world experience.
Melbourne Dominatrix & Mistresses
If you want to be manhandled by a dominant woman, pay a visit to Fetish House, which is on Edinburgh Street in Oakleigh. Designed for fulfilling naughty desires, they are one of the few licensed BDSM venues in the city. They have a good selection of dominant girls on their roster, all of whom are skilled and creative. Justifiably, each Melbourne mistress enjoys a loyal fan (slave) base. Fetish House also offers accommodation for visitors.
Another popular BDSM venue is The Correction Centre, which has been in business for nearly two decades. Prices vary depending upon the Melbourne dominatrix, services requested and session duration.
Local Dominant Women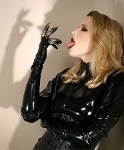 Purgatory is worth visiting if you want to meet normal women with kinky interests. Located north of the city's CBD, the venue caters to bondage lovers who want a safe and discreet location to meet and play with one another. The dungeon consists of two levels. While the lower level has a relaxing environment, the upper level has several themed rooms, including a bondage room.
If you are not a single male, you cannot miss the Saints & Sinners Ball. Held only four times annually in different clubs, the party is a magma-hot event on the city's fetish calendar. It has a dedicated BDSM zone, which attracts adventurous folks and the casual Melbourne dominatrix.