Meet Dominant Women Near You

Adelaide is well known for kinky fun and pleasure. If you are in the city to experience the thrill of being dominated, you will find no shortage of Adelaide mistress to indulge you.
Adelaide Dominatrix & Mistresses
Walk into The Fetish Palace and you will note the distinct and refined aura instantaneously. Ruled by the goddess Gabrielle, this kinky hotspot is one of Australia's finest dungeons. With several dominatrices – resident and visiting – on their roster, The Fetish Palance never fails to satisfy its guests. What makes the experience truly memorable and unique is the enchanting setting – the dungeons are theatrically themed to provide the ultimate BDSM experience. Located on Light Square in the city's CBD, they are open on all days except Wednesday and Sunday.
For those who seek specific interests, Mistress Meisha is willing to oblige. From goddess worship and sissy training to ball torture and golden showers, the dominatrix is by a experienced in delivering heavenly satisfaction to kinky folks. Available on all days (except Sunday} and by appointment only, the Adelaide mistress operates discreetly in a well-equipped dungeon.
Local Dominant Women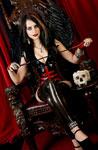 If you desire to be spanked by a casual dominatrix, you could try your luck at Sir Perry's Crypt. Held bi-monthly at a private residence, this fetish party welcomes likeminded people who wish to explore the diverse world of BDSM. To gain entry, try familiarizing yourself with the owner or an existing member. Once you get their approval, you will need to make a donation to attend the party.