Meet Women Into Fetish Near You

To all the men who have not stood naked in the presence of clothed and sensual  females, you have not LIVED. Make the most of your short time on earth with a life-fulfilling CFNM experience.
An acronym for Clothed Female(s), Naked Male(s), this paraphilia has one or more naked men at the mercy of one or more clothed women. Usually used in context of pornography, the term also represents a community that is increasing in strength.
In a world where women are the objects of desire, this fetish reverses the status quo. If you dream of being objectified by dominant women, then you should participate in fetish-related gatherings and online communities.
CFNM Sex
For those seeking to indulge in this kinky behavior, it is smart to join CFNM Community. While it may not be scorching the charts in terms of member count, it will certainly get you closer to realizing your fantasy. Although this is a pay-to-access community, you can create a free account and look around.
A similar resource is CFNM Chat City. With their webcam facility and chat rooms, you can get down and dirty with your dream CF. Free membership allows you to create a profile, view member profiles and send flirts.
Local CFNM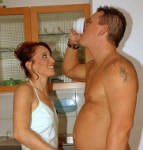 Truth is that finding local CFNM parties can be quite challenging as this fetish is quite unique and has few visible supporters. If you know someone involved in this lifestyle, your work's done. Otherwise, search the classifieds, forums and local chat rooms.