Meet Women Into Fetish Near You

Inside every woman is a Domme waiting to be discovered, released and worshipped. Finding a woman who has achieved this state is an absolute necessity for men who want a truly ballbusting experience.
Getting kicked in the groin is tremendously painful and embarrassing for most men. For kinky men, however, it is tremendously satisfying and liberating. Ball busting is a form of cock & ball torture (CBT) that focuses exclusively on the factory of sperm production.
Being abused and humiliated by dominant women is a fantasy that a surprising number of men crave for. If you are one of them, try to fulfill your ball busting fantasy by seeking dominant women.
Ballbusting & Fetish Sex
As most ballbusting sites are simply warehouses of CBT-related videos and pictures, they cannot help you find the women you desire. Kicked In The Groin is a very useful resource. It has videos, pictures and a forum that sees decent user activity. With more than 6000 members, this site is perhaps the largest of its kind on the internet.
BallBustingSocial is a social community for the scrotum-obsessed kinksters. Admittedly, the site does not see much activity even though it has members from all over.
Local Ball Busting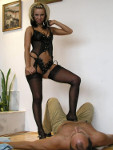 If you want to find female ball busters within your area, keep a close eye on local classifieds. You should also look for online kink communities in the region. While this may seem time-consuming, the results will be worth the effort. For instance, there is a ball busters community for people in Canada. A similar community exists for Londoners too.