Find Women Into Bondage Near You

New York the city that never sleeps offers a variety of enthralling experiences. Have a memorable time in the Big Apple with an orgasmic New York BDSM session.
New York City BDSM & Bondage
The New York Fetish Tribe is a group of like-minded people who enjoy fetish play. They manage Suspension, a monthly New York bondage party that brings out kinksters in New York. Suspension is held at The Delancey on the last Sunday of every month. There is an entry fee. The group also manages other New York kink events like Impact and Excess. Located between 10th Avenue and 11th Avenue, the Eagle is one of New York's famous landmarks. The leather bar attracts a diverse and attractive crowd thanks to its rich history, welcoming environment, friendly staff and reasonable prices. They host several New York kink events through the week.
More BDSM Opportunities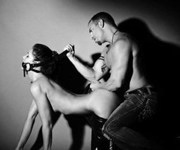 If you have a fetish for being whipped by strong and sexy men, check out NY Bondage Club. They welcome gay, bisexual and curious straight men who love a good New York bondage session. The party takes place every Sunday at Paddles, which is located between 7th Avenue and 8th Avenue in Manhattan. Party hours are from 7 PM to 1 AM. Both members and non-members can attend the party. There is an admission fee.
Speaking of Paddles, this New York BDSM club is perhaps the infamous face of the city's kink scene. They host several BDSM-themed events through the week like OTK Night and Slave Auctions. Check out their blog for further details.