Find Women Into Bondage Near You

The city of Los Angeles has an abundance of glamour, sassiness and kinkiness. Seek a likeminded Los Angeles BDSM partner for a sensual evening of pleasure and pain in the City of Angels.
Los Angeles (LA) BDSM & Bondage
Established in 1983, Avatar caters to gay men having an interest in BDSM. They hold several activities like Los Angeles bondage educational sessions and private play parties. Most of these activities are open to everyone, regardless of gender and sexual orientation. You can subscribe to their mail list to be notified about upcoming events.
With an aim to make Los Angeles BDSM sexy, Club Anarchy brings swingers and kinksters together. Organized by Sanctuary Studios, the kinky events take place in a massive dungeon near LAX airport on La Cienega Boulevard. Here, you can meet professional BDSM players, lifestyle practitioners and even curious Los Angeles kink novices. However, you need to be a member to attend these events. Sanctuary Studios offer Free and VIP membership plans.
More BDSM Opportunities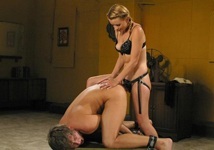 Held every three months, the Bondage Ball has been entertaining the fetish-loving crowd for more than a decade. Everyone – from freaks and vamps to doms and subs – are welcome to participate in the Los Angeles bondage celebrations. You can find details of the next event on their website.
Evil Club Empire is another resource that could help you find a Los Angeles kink date. Their parties, like Blue Mondays and Clockwork Orange, attract many people who like to walk on the wild side.
You could also check out Eagle LA, a leather club that has had multiple reincarnations since 1968. With events like 'Meat Rack' and 'Ginger', it is clear that patrons here take their lifestyle very seriously.