Find Women Into Bondage Near You

Chicago the Windy City with its impressive skyline, music festivals and restaurants offering an array of cuisine, is in the forefront of the other cities in the USA. The city too offers a Chicago BDSM experience that will certainly not disappoint.
Chicago BDSM & Bondage
The Studio Chicago is a private dungeon located in a welcoming neighborhood south of downtown. In addition to providing professional Chicago bondage services, they host play parties and educational sessions that are open to everyone. Some of these Chicago kink events have an admission fee. Check out their 'Events' page for more details.
Established in the 80s, the Leather Rose Association Chicago is a pansexual BDSM membership club located on North Clark Street. One of their main events is Bootblack Night, which takes place on the first Friday. Check out their schedule, which is on their website.
A visit to Egor's Dungeon on Belmont Avenue will give you the opportunity to meet someone that is likeminded. You will find a selection of new toys, fantastic ideas and perhaps a Chicago kink partner.
More BDSM Opportunities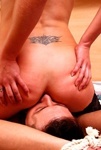 If you are 18-35 years old, The Next Generation Chicago can help you connect with the Chicago bondage community. They have a weekly munch at Katakana & Koko Sushi Bar on West Armitage Avenue. They also have an educational demo at the Galleria Domain 2 on the first Saturday of every month. While there is no entry fee for the demo, you are encouraged to make a donation. The group holds play parties every 2-3 months.